As noted below I have marked all fire roads with red boxes. These are approximate locations and should only be hiked or biked, no vehicles are allowed in, except for
of course
fire dept./police officials.
Do not block fire roads with your vehicle, park elsewhere and walk in. I am surprised I could not find a map with hiking trails on the net.

(Update finally found one! See below paragraph for link)

. So here you go, I hope you appreciate it and use it with caution. I

don't

advise going in after dark, as per the rules posted as well entrance is only

permitted

from sunrise to sunset. And avoid all trails up to 48 hours after rain, as mountains sides can slip very easily!

A lot

of the trails I have experienced so far have a straight drop into the canyon, so once again I must stress the use of caution hiking and

especially

biking! You can save this to your computer and then increase the size to view it better, and compare it to a regular map of the area so you can associate it with something a bit more tangible than this poor excuse of a map I prepared here!
Hiking Map for turnball canyon:
http://www.habitatauthority.org/newsite/wp-content/uploads/2012/12/map-Turnbull-Canyon-2012.pdf
There are many warnings and rules posted at each entrance, YOU NEED TO READ EVERY SIGN YOU COME ACROSS!!! Certain areas contain more dangers than others. I never advise hiking alone, and always carry plenty of water. I usually

don't

take food in, because of wild animals! But if you must make sure they are sealed tightly, animals have a great sense of smell as you all should know. Mountain Lions have been spotted.
On my 1st hike Saturday March 17

th

2007. (I have hiked the area several times since but have been so busy with school that I haven't had a chance to bring more info) But if you have questions feel free to ask.
We parked the car at the fire road entrance at the end of Skyline Drive (see red box on map, heading into the canyon from the Beverly Blvd entrance you will proceed through

Turnbull

Canyon Road to Skyline Drive and make a left. This portion of Skyline Drive will end and you must go either right or left at the end, you must go left, I

didn't

notice a street sign posted for Skyline, it only reads

Edgeridge

Drive on the right hand side curb. But trust me Skyline continues off to the left, you will pass Descending Road (which has a cool creepy old gate down about half way on the left hand side known as

Hell's Gate

) and continue up the road, You will see a sign that says Road Closed in big red writing, but its not! Its wide open once through you will see the fire road metal gate ahead and a boarded up house on the right hand side) once we made it up to the fire road gate we noticed 2 other cars pulled off to the left of the gate clearing the entrance. So we took their lead

and

decided to park behind them, we had just enough space! Once we got out of the car we noticed they were government plates! This was strange, they were unmarked vehicles 1 was a Chevy Malibu, just like the one we were driving.
Strange already and not even there 10 minutes. The four of us started our trek, walking about 2 minutes into the trail we spotted a path to the left with a partial wooden gate, and a mail box

encased

in brick working, we traveled that path on the way out and at the top it looks like there used to be a home sitting there.
So we continued down the road and seen that once about 20 minutes in we were walking right into a Commercial area so we took a trail of to the right of there fencing. This takes you along their property which once in far enough we realized was a Strawberry field, off in the distance above the 1st patch was a coyote, clear as day (see photo below, well photo isn't too clear sorry).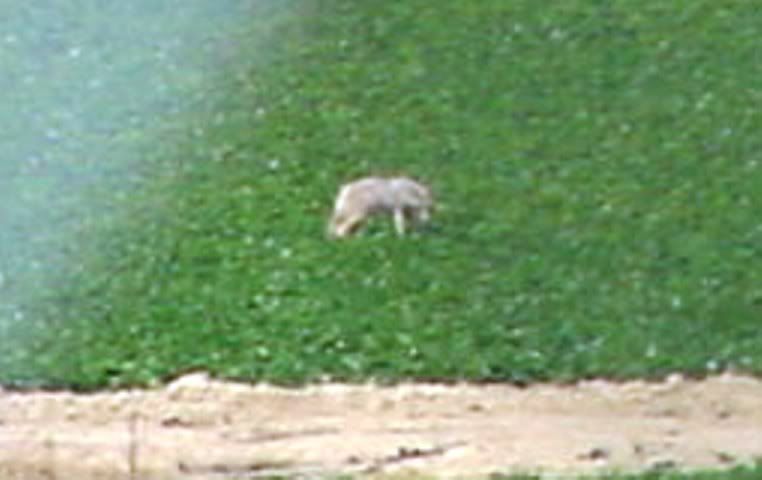 And slightly past that there is a steep trail off on the right, at the bottom of this trail there is an extreme warning sign or two, once again please read all signs you encounter. At the top of this trail you can see off to the West/Left there is the Puente Hills Landfill.
This is about as far as we went on Skyline Drive Fire Road as there was another metal gate and this trail pretty much sucked!
We headed back to check out another trail we had seen on our way in on the right hand side, there were several but this one went around in a 180 and looked down on a very narrow trail before the larger trail named Ahwingna Trail. We hiked only a few minutes and noticed a lot of large animal droppings, thinking this trail might be home to large animals (i.e. coyotes) we decided to turn back and wait to explore when we could go back with more people or a bigger stick!
This hike was not out of the ordinary, we found it

wasn't

the greatest trail to pick, but

that's

how we learn right! Besides the coyote nothing else interesting was noticed, the boarded up house across the way from where we parked, is said to be home to a hermit, even though all the windows are boarded up (except for a few on the 2nd floor)and no

electrical

service is on (per the meter outside) there is food inside and it looks like someone is occupying the home! Kinda scary if you plan to hike in the area alone or at night, so

don't

!